Maybe the field of web development should be measured in dog years as opposed to human years, with new best practices, bad practices, browser features, dos and don'ts emerging every day. The developments seen in our line of work in the course of three months are often not achieved in two years in other technology sectors.
So summarising a whole year of web conferences leaves us with the impression that the first conference of the year was a whole two years ago. Just as well attentive listeners always make notes, or at least know someone who has conscientiously taken down notes on their pad.
So here is a brief overview of the highlights of, and impressions from, our favourite events of 2012!
Multimedia Treff 29 (Cologne)
This event has been anything but a secret among Cologne's citizens for some time now; in fact, it is regarded as the "top dog" of technology conferences. There is a different motto for each Multimediatreff (multimedia meet-up) event: e.g. mobile, photography or, as in this case, web development. Following the huge success of the 28th multimedia meet-up, which also focused on web development, a follow-up event was held at the start of the year. It's not an event that you always meet the really big names at, but this doesn't take away from the quality of the content.
The best talks of the day certainly included the one given by Mario Heiderich with his in-browser security gaps,

and Peter Kröner with a "Polyfilla-ed" HTML5 presentation, including a demo in "every-web developer's-darling" browser Internet Explorer 6. Hats off to him:

The other videos from this and other Mutlimediatreff talks can be admired on the Multimediatreff YouTube Channel. One thing is certain: we'll definitely be attending the next Multimediatreff event on this topic!
Beyond Tellerrand Play (Cologne)
Be it at the Beyond Tellerrand event in Düsseldorf or at the Beyond Tellerrand Play in Cologne, visitors are always in good hands at events organised by Marc Thiele. Two days, two tracks, an incredible amount of information, impressions and inspiration to flood the minds of the visitors. As the name implies (the German expression "Tellerrand" translates as inviting people to look beyond the proverbial ends of their noses), the aim of the conference is to encourage visitors to broaden their horizons, be inspired by new technology and simply have fun. There is no doubt that the event once again succeeded on all counts.
Unfortunately, not all of the videos have been published yet, but luckily the best talks have:
Marcin Wichiary from Google about the development of Google Doodles

and Joshua Davis' very inspiring talk about: Inspiration.

In the future, the rest of the videos will be available on the Beyond Tellerand Channel on Vimeo.
Developer Conference (Hamburg)
Anyone who thought that programmers wearing shirts could only talk about big data, Java & the cloud had an opportunity to free themselves from their preconceptions at the Developer Conference in Hamburg. The 3-track conference dazzled visitors with a broad range of issues, from agile project management to JavaScript quality assurance and DevOps issues – there was something for everyone.
It was precisely this range of issues that made these two conference days such a special experience. The views of, and exchange of ideas with, colleagues from other fields usually open up new perspectives for our own field of activity.
Unfortunately, the talks weren't recorded, but the slides are available for two of the talks that were richest in content:
David Zülke with "Designing HTTP interfaces and RESTful web services",

and Alexander Jäger's pointedly expressed presentation with the nice title "Survival of the Fittest".

Smashing Conference (Freiburg)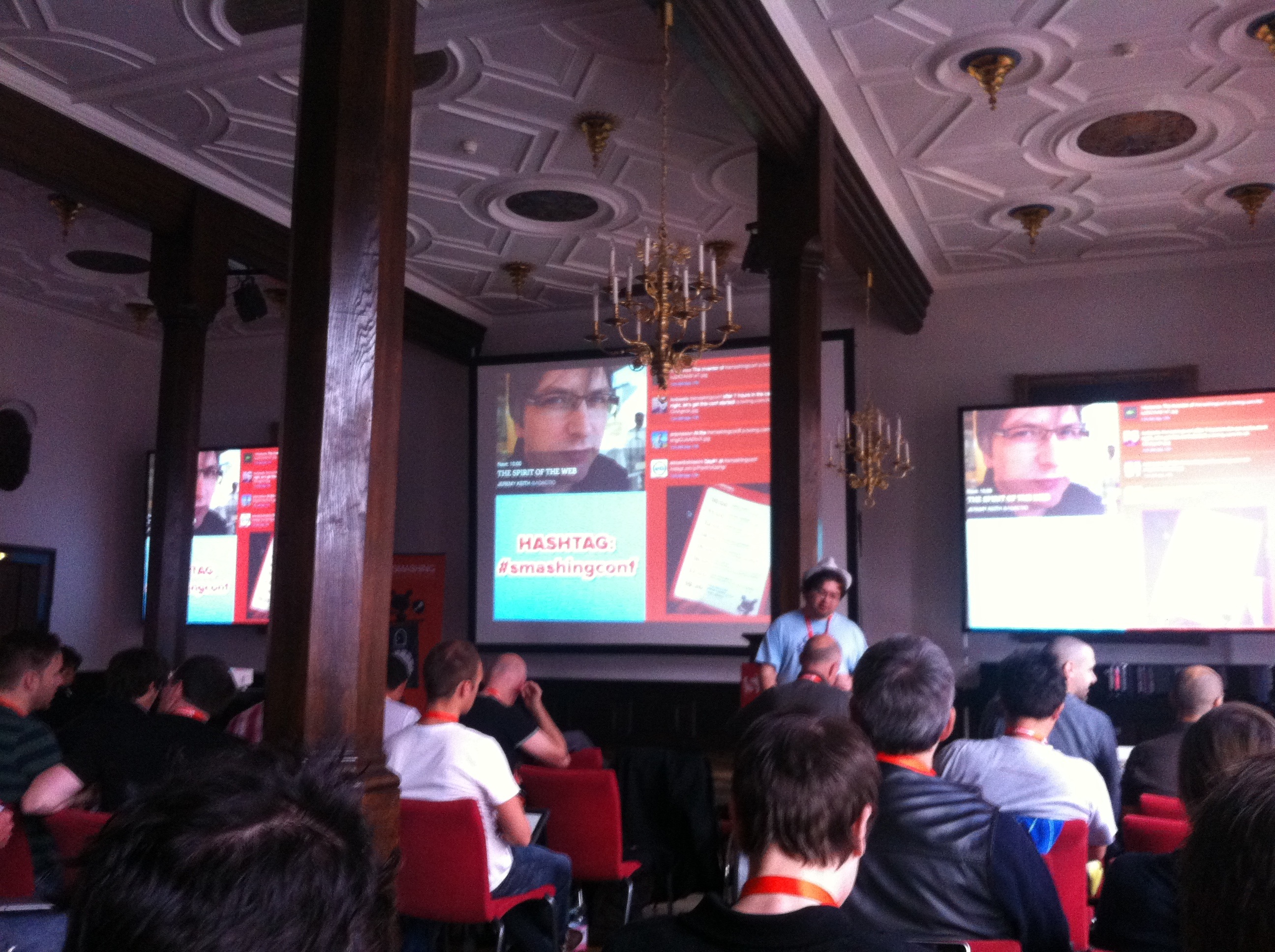 A very special type of premiere was held last September in Freiburg. The world-renowned Smashing Magazine organised its first Smashing Conference. In addition to the wonderful atmosphere in Freiburg's Historic Merchants Hall, which faces Freiburg Cathedral, the talks and speakers also managed to win the visitors over.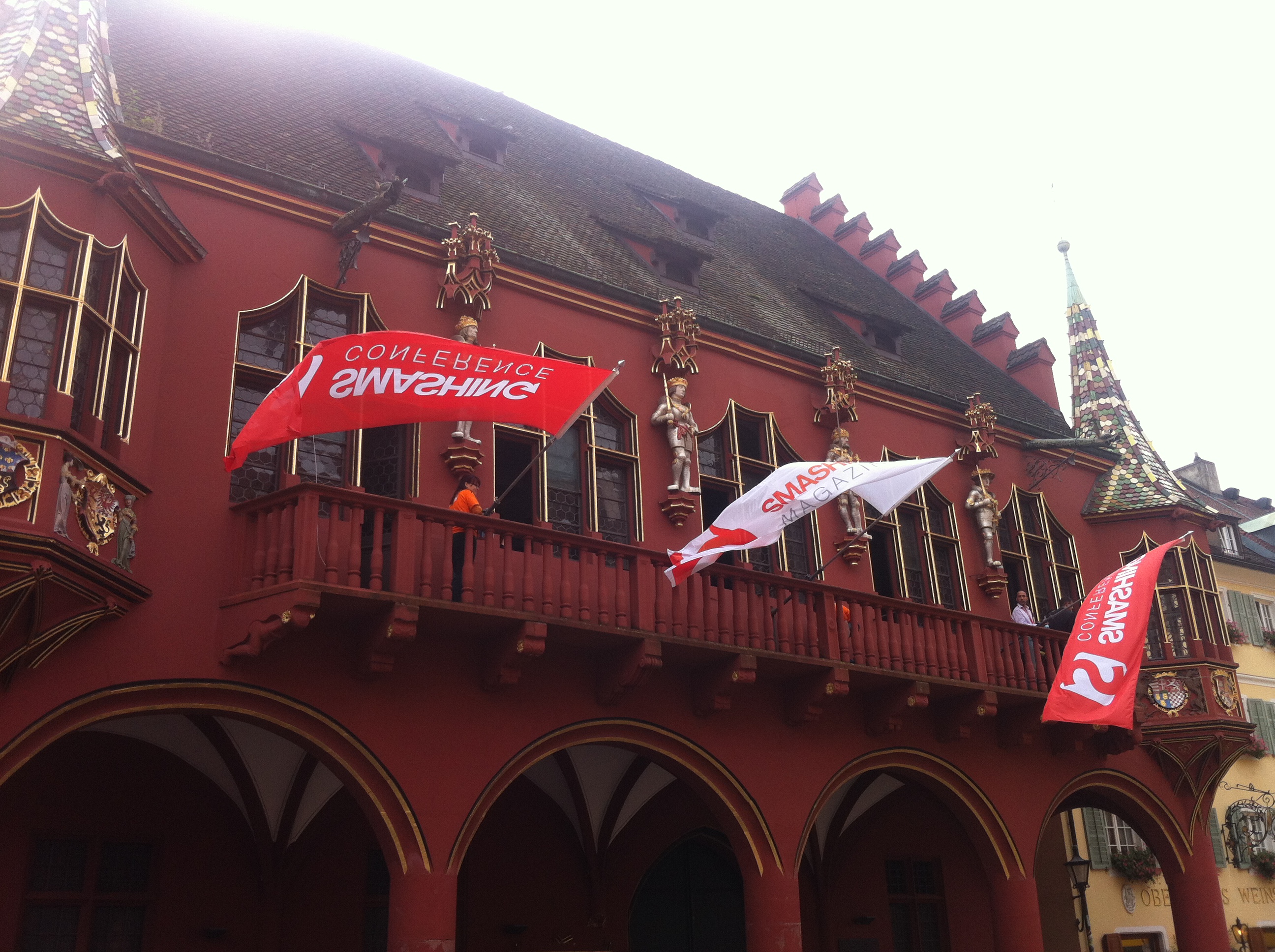 The key message sent out by the conference can be summarised in only a few sentences:
Responsive design is a sub-set of adaptive web design. Designers have to leave their comfort zone, Photoshop, in order to develop adaptive websites and tools. Web developers and designers need new and better tools in order to be able to implement websites that are fit for the future.
Stephan Hay took a very in-depth look at the issue of "tooling" – more from the perspective of a designer looking into the world of a developer than of a developer that wants to explain something to designers:

What the web represents in all its facets was the topic addressed by 'all time favourite' Jeremy Keith,

And finally, Brad Frost really rounded off the issue of "Adaptive Web Design". In my opinion, he gave the best and most important talk on the issues of web design and web development of 2012.

Unfortunately, not all of the videos have been published yet for this conference either. If you want to keep up to date, however, simply keep your eye on the corresponding Vimeo Channel.
LxJS (Lisbon)
Spending the end of September in sunny Lisbon and hanging out in a top location of the world's JavaScript elite at the same time, who could say no?! We certainly couldn't! Around 250 other visitors couldn't resist either, and were well looked after with great catering in a former indoor market in the heart of Lisbon.
But who cares about even the best possible weather if you get to hear about the latest JavaScript developments all day?! You're right: first-class talks make the weather seem like only a secondary consideration. Although the conference focused on Node.js development, there were a respectable number of presentations on client-side JS development:
Jan Lenhardt set about looking into the JS community. His talk was about the influence we, as developers, exert on the web and, in turn, the influence that the web has on people. It was a virtually politically motivated talk. Don't miss it.

Must less political, but much crazier and more wound-up was James Halliday aka Substack, who showed just what you can do with streams in Node.js. Anyone who was still able to keep up with everything the nutty professor was talking about on stage by the end of the talk is certainly worthy of a JavaScript medal.

By contrast, a nice dose of relaxation was administered by the wonderful Garann Means, who explained the development world outside of MV* Frameworks to us and gave us a little hint as to where the development of web apps will lead over the next few years.

Everyone knows that Brian Leroux can not only create a real atmosphere as a perpetually tipsy party guest, but also has a few corny jokes up his sleeve for his appearance on stage. So it's all the more fascinating just how much information he manages to impart in an extremely charming manner. Learning is more effective when it's fun, after all – and when the topic being addressed is Apache Cordova, then it's all the more worth it.

More videos, impressions and interviews from the event in the Portuguese capital can be found on the LxJS YouTube Channel.
JSConf.eu (Berlin)
It's always worth going to Berlin. Even if you dismiss the phrase as city marketing blurb, you have to admit that the JSConf.eu is as much part of the European JavaScript world as the grumpy taxi driver, whose nonchalance nevertheless manages to entertain, is of Berlin.

Launched in 2009 as a spin-off of the successful JSConf.us, this conference always has been, and indeed still is, unique. You never have to think about the speaker line-up at this event – the objectives have long been of an entirely different nature. This year, for example, the organisers had a surprise up their sleeve with 25% female speakers (anyone familiar with other tech conferences knows that this is a surprisingly high rate). The atmosphere left no desires unfulfilled either: from the frozen yogurt VW van in the lounge to what was virtually an open-air stage, the bubble, it was all a more than harmonious concept.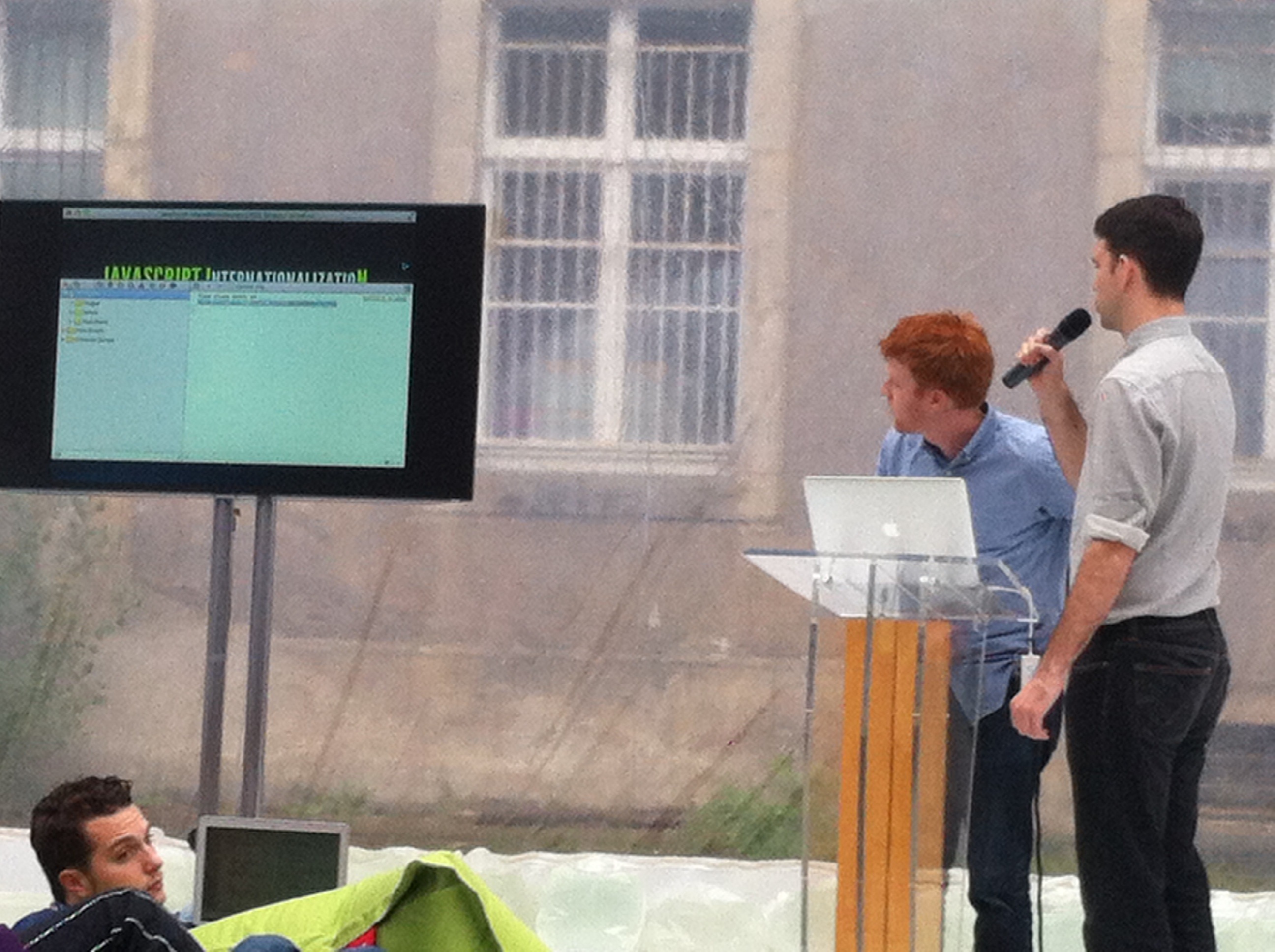 The quality of the talks at this conference always has been, and is above-average. The highlight was certainly the Javascript-style opening medley by Jed Schmidt and Mandy Lauderdale, which really put popular and well-known Disney songs through the mill.

But the tech talks were also something special:
Mr. Doob and AlteredQualia, maintainers of the Three.js Library, talked about the latest achievements of the latter.

Stuart Memo programmed a guitar effect device that runs in a browser with the HTML5 Audio APIs.

Angus Croll broke all of the rules of good code design and explained when, how, where and why this should be done.

… and, how could anyone forget?: Max Ogden, who fought the weather gods in the bubble during a storm, showed in his community talk why governments should also opt for Open-Source developments.

Everything else that was worth seeing can be found on the JSConf channel on YouTube.
JavaScript Conference (Düsseldorf)
Good things come in small packages, and this certainly applies to this event organised with real attention to detail: for the second time, the two-man organisational team opened the hotel doors for the JavaScript conference in Düsseldorf. Unfortunately, the number of visitors was limited, meaning that the organisers maybe should have stuck to one track only. But this did not, of course, detract from the quality of the talks.
One talk that deserves to be highlighted is Andre Jay Meissner's talk on "Mobile Web Testing & Debugging Best Practices":

Unfortunately, the presentations weren't recorded at this conference, but if you want to see the other slides, you can visit the conference's Lanyrd Page.
WebNet Conference EU (Milan)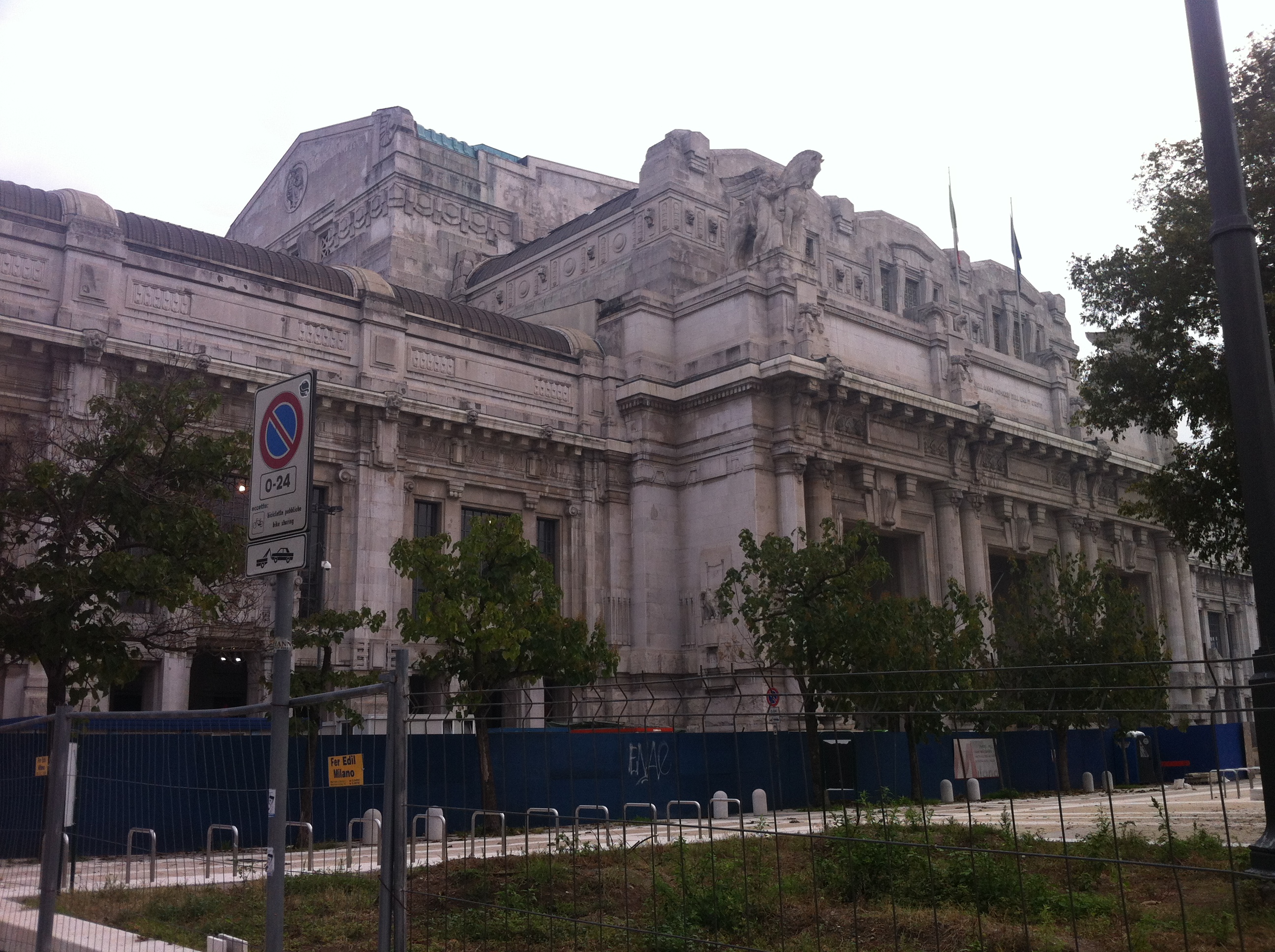 One-day conferences are always a bit of a challenge. They're usually packed full of content but offer little scope for talking to others about the things you've experienced. The WebNet Conference EU in Milan proved that this doesn't always have to be the case. The organisers made a considerable effort to present a varied programme on four different stages throughout the day. As well as a fabulous view over Milan from the 13th floor, the international visitors were also spellbound by a "hackathon" linked to the conference that allowed them to play an active role.
Although only four videos have been posted on the Vimeo Channel to date, you shouldn't miss "How to scale without going crazy" by Ayende.

JS.Everywhere EU (Paris)
Paris, the city of love. Paris, the city with the most sights in Europe. Paris, the city steeped in history. Paris, the city with the highest volume of JavaScript talks in October 2012. If you think the last aspect doesn't seem to fit, you must have missed the JS.Everywhere.
The European sister event of the San Francisco-based Js.Everywhere US offered four different stages on two days and presented a broad programme covering various JavaScript-related issues.
In addition to JS benevolent uncle and figure-head Douglas Crockford, every skill set, from beginners to professionals, was provided with loads of information. The extremely tasty buffet and constant access to red wine might not have to be mentioned again, but the excellent organisation behind the event should be. Well done to the organisers, we hope to see more of the same next year.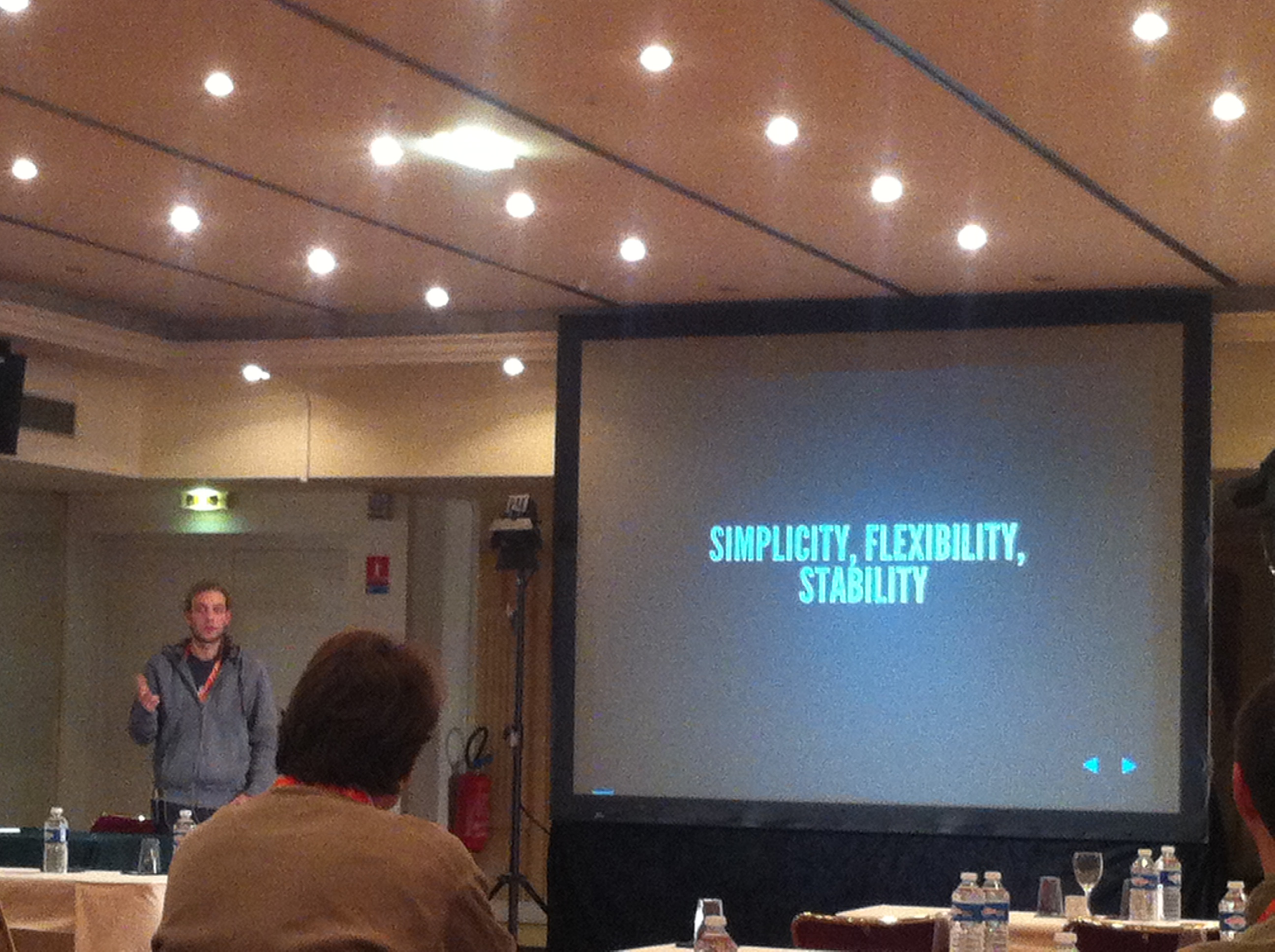 Some presentations really stood out from the crowd: the talk by Rodney Rehm, that calmly presented his best practices in JavaScript API to the keen audience in bite-size pieces:

Ben Vinegar, who gave a pretty exciting presentation on the issue of IFrames, one that has otherwise been done to death, by throwing in a whole load of information, tips and tricks:

Domenic Denecola, who explained how to get JavaScript-based applications on to the desktop.

Beyond Tellerrand (Düsseldorf)
At the close of the year, the Beyond Tellerrand event brought together everyone who is anyone in the German web development sector. But it wasn't only the "local heroes" who turned up. Marc Thiele always manages to attract the international elite from information architecture, web design and development to the capital city of North-Rhine Westphalia. The information imparted at this event at the end of the year is pure distilled knowledge. And it's always nice to see how very different issues are linked in a playful manner. This applies whether the reading habits for Arabic texts are explained, mobile debugging is addressed or the audience is simply inspired and motivated. In one word: fabulous. Time and time again.
The next opportunity to attend this event will be in May of next year. Our tip: mark it in red in your calendar now.
Unfortunately, no videos are available yet, but if you want to get a feel for the event, take a look at Lanyrd or Flickr.
Our friends from Working Draft Podcast leapt at the chance to get an interview with Bruce Lawson for their special programme on Beyond Tellerrand. It's certainly worth listening to.
denkwerk employees travelling the world
denkwerk's employees didn't just attend various conferences as visitors, but also actively shared their knowledge in different fields with other interested individuals in their capacity as lecturers and speakers. We have put together a brief overview of our web tech talks, including videos and slide decks:
Legacy
But it's important to remember one thing: the main memory that sticks with us after all of these conferences is one of people. The people we just met; the people we otherwise only know from Twitter; the people we always meet at these events and the people we enjoyed a few nice discussions with. At these events, it doesn't matter where you've travelled from, or whether you work for Google or an agency with a workforce of twelve. No one person is more equal than any other.
Outlook
If you've shied away from visiting a web developer conference in the past for whatever reason – it's always a great experience and the community welcomes everyone with open arms. The first opportunity of the new year will be the TakeOff conference in Lille on January 17 and 18, 2013.
At this event, some of the best-known developers will be presenting their trends for 2013. We denkwerk employees will be attending, too, and are looking forward to gaining great new insights, hearing about technical achievements and learning about all of the issues that will be on our minds this year.